Going Up the Country
I'm going up the country, babe don't you wanna goI'm going up the country, babe don't you wanna goI'm going to some place where I've never been beforeI'm going, I'm going where the water tastes like wineWell I'm going where the water tastes like wineWe can jump in the water, stay drunk all the time
- A. Wilson
As you people (what, all 3 or 4 of you - you know who you are. :)) who regularly read my blog know, I'm currently a geology major at UWEC. The nice thing about that, as I've written before, is that I get to take field trips as part of my education. I like field trips. I get to go places and learn things at those places. This is a story about a field trip that our Mineralogy/Petrology class took to northern Wisconsin. I had a very good time (I think that my whole class did) and took a few photos. Without bothering you with the geological details (that I have to pay perfectly good money to learn :)) I'll provide you with a story of that weekend, which occurred sometime in the middle of last September.
Our trip centered in Mellen, Wisconsin, which has a few famous quarries for the local granite. It's also fairly well-centered to show the 1.1 billion-year-old failed continental rift area in northern Wisconsin. It was just the right time of year for color change of the local flora, as you can see from some of the photos. We stayed at a campground on Mineral Lake, and we were there for three days and three nights. The weather was decent most of the time, with only one day of rain (but a pretty full day of light rain) on the whole trip.
Anyways, I'll pretty much let you see for yourself what it was like. Below (as per usual) are selected captioned photos of the trip. Enjoy! I sure had a good time taking them.
This is a nice photo of Mineral Lake, taken the morning after the all-day drizzle, from our campground area. I like mist.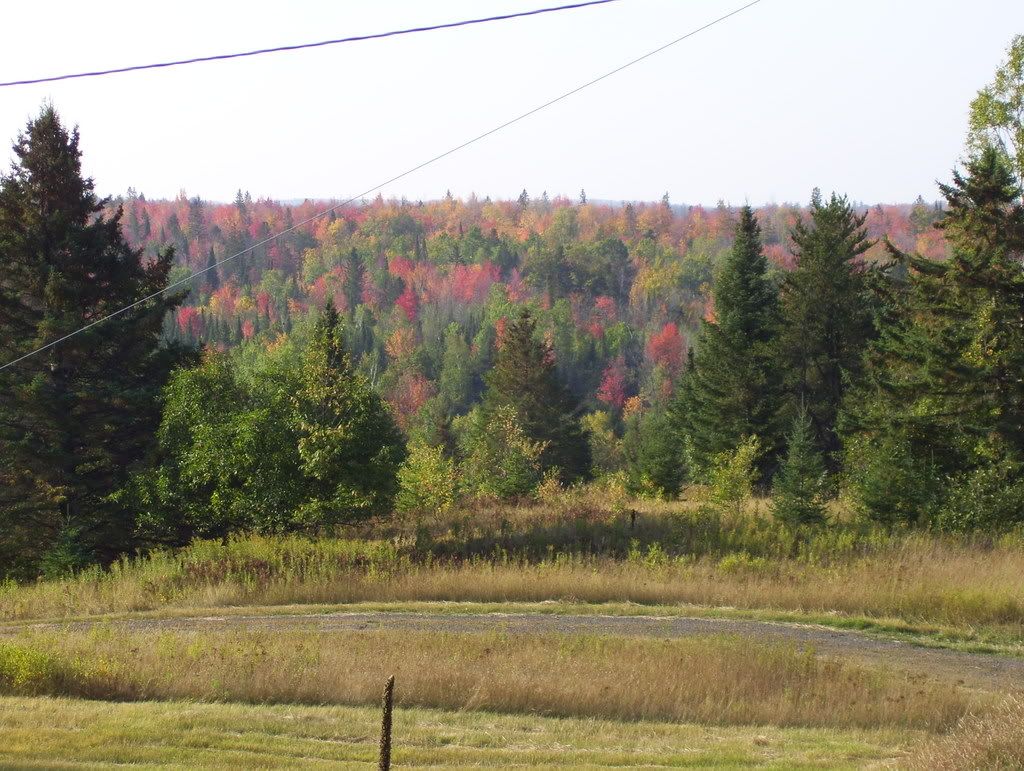 A nice photo from a location just south of Mellen. This view typifies the scenery we encountered throughout the field trip. Not that I complained. . . .
One of our stops was an abandoned iron mine on top of Mount Whittlesey, about
3-4 miles from Mellen. This is a view from the top, looking (roughly) east.
And this is what the banded iron formation at the top looks like.
This is a view of the Mellen granite quarry. The granite is supposed to be rather famous as excellent material for counter tops and the like. This stop was made on the day it rained.
This is a nice photo of part of the series of waterfalls of the Potato River, taken from a rock out in the middle. This late in the year the water was both shallow and slow.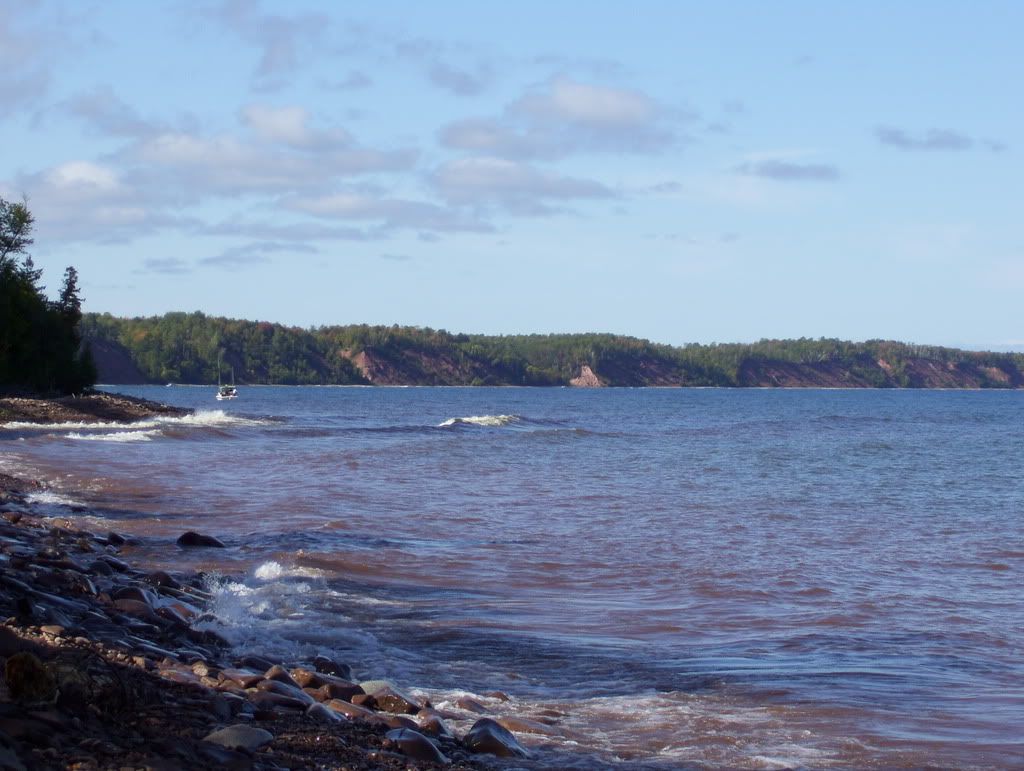 This is a composite of two photos of one of our last stops, the most northern point of our entire trip. Yes, this is one big lake! :) Actually, it's the biggest lake in the world, in surface area. You can guess the name. :) After two-and-a-half days of looking at and learning about rocks, we spent some time here eating lunch and getting vengeance on those rocks by throwing them into the lake. It was a fitting end to a great weekend. As I wrote, I had a lot of fun on this field trip. I hope that all of you like the photos and story. Let me know how you feel!
Labels: college, field trip, geology, Wisconsin